Stairs
For concrete and metal structure
Bet on quality and stylish finish
Top-quality, selected materials, precise, solid workmanship and timeless, stylish design – our custom wooden stairs for self-assembly have everything you need.
Select configurator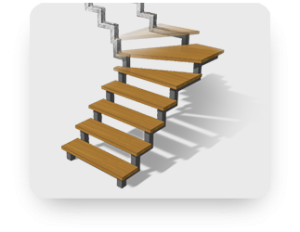 ---
We offer traditional stairs on concrete, carpet stairs, shelf stairs and stairs for custom construction. Do you have steps of unusual dimensions, an unusual shape of tread steps or maybe your belowed one has a special request? We produce our stairs to individual order, especially for you!
Choose one of the variants of stairs to see our configurator.
Create your dream staircase together with us.
Stairs mounted on concrete and metal structure – durability and aesthetics
Stairs mounted on concrete or metal structure are an excellent idea for those looking for durable, functional and aesthetic solutions. Taking advantage of the durability of concrete and the solidity of the metal structure, your new stairs with wooden steps will not only provide an aesthetically pleasing appearance, but also will be a guarantee of reliability and will serve you for many years! Designed with your satisfaction in mind, our products offer the possibility of self-assembly, while meeting all your expectations. What are the differences between stairs on concrete and metal construction?
Stairs on concrete – wooden traditional or carpet stairs
Concrete stairs with wooden steps are a combination of solidity and elegance. Concrete stair construction provides durability and strength, while wooden treads add warmth and natural charm. Thanks to this combination, the stairs become not only functional, but also aesthetically pleasing, blending perfectly with different interior styles. Traditional stairs on a concrete base are the perfect solution for any type of interior. Thanks to the variety of wood used in the production and the possibility of matching the configuration of the steps and the materials of the treads, this type of staircase will fit perfectly into both traditional and modern styles. Carpet stairs are the perfect combination of simplicity and modernity. Their distinctive zigzag form gives them a unique, subtly sophisticated look. Whether you prefer classic solutions or a more contemporary style, rest assured that a carefully selected carpet staircase will blend harmoniously into your interior.
Metal structure stairs and shelf stairs
Metal stairs based on a steel or other sturdy metal structure are known for their exceptional stability. The metal structure provides a solid base for the stairs, which is crucial for the safety of users. Sitting on a metal structure, stairs are able to withstand heavy loads and are resistant to deformation, making them a reliable solution. Stairs on their own construction are distinguished by a solid frame made of metal or wood. They are ideal for both modern and loft interiors. If you have transformed your attic into a usable space and do not have ready-made reinforced concrete stairs, stairs for your own construction are the perfect solution! You can plan and implement them at any stage of finishing your house. Shelf stairs are undoubtedly a space for interiors with a modern character. Their original design and the way they are installed make the stairs exude lightness and seem to float in the air. Therefore, they are an excellent solution for smaller rooms, as they take up less space than traditional stairs. Thanks to their unique design, they will especially appeal to enthusiasts of modern interiors.
Are you decorating or renovating your apartment? Check out our window sills and countertops, too!