STAIRS
for your own construction
Invest in quality and stylish finishing.
Top-quality, carefully selected materials, precise and solid craftsmanship, along with a timeless, stylish design – our custom-made wooden stairs for self-installation have everything you need.
Stairs with a self-structure feature a metal or wooden framework and are perfect for modern or loft interiors. Have you converted your attic into a functional space and haven't prepared reinforced concrete stairs? Stairs with a self-structure will be the perfect solution! They can be planned and installed at any stage of home finishing.
Stairs for your own construction – wooden stairs for the interior of your home
Do you dream of modern wooden stairs, but they were not included in the plans for your home or apartment? No problem! Create your dream interior without the need for installing wooden stairs on a structure like concrete! Wooden stairs are an incredibly attractive solution for the interior of your home. Their natural beauty, durability, and warmth add a unique character to any room.
Wooden interior stairs on a metal or wooden structure
Our joinery workshop offers various types of wooden interior stairs, including solid wood stairs for your own construction. With them, you can create unique stairs that perfectly fit into your interior. Self-supporting wooden stairs are a solution that not only provides aesthetics but also exceptional stability. Thanks to a solid internal metal structure, these stairs are durable and safe to use. Spiral stairs are an interesting type of wooden stairs characterized by an unusual form and a striking appearance. With them, you can give your interior a unique character while providing a practical solution for moving between floors.
Stairs for your own construction – Create your dream stairs
In our offer, you will find various types of wooden stairs that allow you to customize them to your individual preferences. Whether you prefer self-supporting wooden stairs, carpeted stairs, or floating stairs, you will find the right solution for you! Our wooden stairs for self-assembly offer the possibility of DIY installation. With proper instructions and technical support, you can make wooden stairs yourself, enjoying the satisfaction of creating a handmade interior element. Explore our wide range of stairs for your own construction. Choose wooden stairs that best suit your interior. Use our configurator and enjoy the beauty and functionality of your new stairs every day!
Also, check out our windowsills and wooden countertops!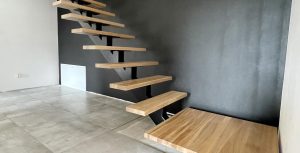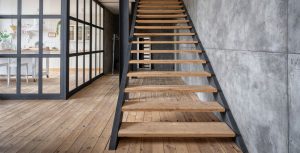 Configurator
Our priority is to make the perfect staircase, 100% tailored to your needs and requirements. For this purpose, we have prepared a clear configurator, thanks to which we are able to know your expectations in a few moments, so that we can prepare an offer for you. You are very much welcome to read in detail all points of the configurator and additional descriptions.
The configurator serves only to prepare a pricing.
Remember – a reliably completed configurator will allow you to avoid misunderstandings at the stage of implementation of your order.