Stairs
Carpet
Go for quality and stylish finishing.
Top-quality, carefully selected materials, precise and solid craftsmanshi, along with a timeless, stylish design – our custom-made wooden stairs for self-assembly have everything you need.
Carpeted stairs are a perfect blend of minimalism with a touch of modernity. The characteristic zigzag line of the stairs makes them exceptionally "light" and elegant. Whether you're a fan of classic or modern style, you can be sure that properly arranged, they will fit perfectly into your interior.
Carpet stairs for concrete – solid wood stairs
Are you finishing the interior of your new house or apartment, and wondering what type of stairs to opt for? You already know that wooden stairs are not only a practical and durable element, but also a beautiful and always good-looking addition to the interior. What model of wooden stairs should you choose? Carpet stairs undoubtedly stand out from the rest and catch the eye with their unusual appearance. If you are looking for reliable and solid, yet unique solutions for your home, carpet stairs on concrete will be a great solution for you!
Wood carpet stairs – unique appearance and high quality workmanship
If the design of your house or apartment provides for stairs on concrete, carpet stairs will be a great choice. This type of staircase, thanks to its remarkable shape, is not only a practical solution, but also a decorative element. The flight of stairs, giving the impression of a flowing carpet, adds extraordinary charm and is an amazing effect. Carpeted stairs, made of solid oak, beech or ash wood, guarantee durability and will last for many years. Wooden steps with natural wood color add warmth and coziness to the interior. If you are thinking about a handrail for your staircase, a wooden balustrade will be a good choice. Made in the same style, it blends perfectly with the stairs, creating a cohesive and elegant whole. Solid wood stairs, created in our carpentry workshop, are made with precision and solidity, ensuring stability and comfort during use. These stairs will become the decoration of any interior, giving it a unique character. Interiors decorated in a natural style will certainly find themselves in combination with wooden carpet stairs. Oak stairs impress with their uniqueness, preserving their natural grain and beauty, and like other wooden stairs will bring harmony and elegance to your interior. Use our configurator – define your needs and expectations!
See our other stairs for concrete and metal construction!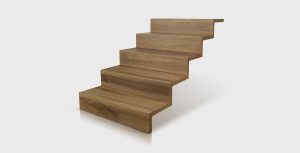 Configurator
Our priority is to make the perfect staircase, 100% tailored to your needs and requirements. For this purpose, we have prepared a lucid configurator, thanks to which we are able to know your expectations in a few moments, therefore we can prepare an offer for you. You are very much welcome to read in detail all points of the configurator and additional descriptions.
The configurator serves only to prepare a pricing.
Remember – a reliably completed configurator will allow you to avoid misunderstandings at the stage of implementation of your order.