Window sills and countertops
Invest in quality and stylish finishing
Top-quality, carefully selected materials, precise and solid craftsmanshi, along with a timeless, stylish design – our custom-made wooden stairs for self-assembly have everything you need.
Choose configurator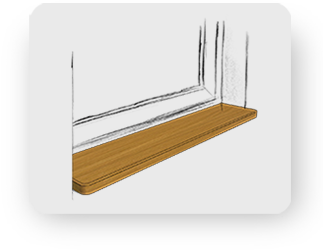 ---
Not long ago, in many apartments, one could see old, concrete, or plastic window sills that looked unattractive. Today, fortunately, there are ample possibilities to create various constructions that match interior design and meet changing customer requirements and tastes.
We also offer kitchen countertops made exclusively from hardwood species such as oak, beech, and ash. Properly protected, they will serve for many years.
Window sills and countertops made of wood
Wooden interior finishing elements undeniably always evoke admiration and are a significant embellishment in rooms decorated in any style. Wooden window sills and countertops are not just functional components but also beautiful additions that give a unique charm to the interior. Made from different types of wood, such as oak, beech, or ash, they are not only durable but also give interiors a warm and natural appearance. Our products are an excellent solution for those who value durability, aesthetics, and high quality.
Wooden window sills – elegance and class for your windows' look
Wondering how to finish the windows in your home interior or considering renovating them? Wooden window sills are not only practical but also perfectly blend with various interior styles. Made from oak, beech, ash, or pine, they are the perfect complement to both traditional and modern arrangements. Their appearance is unique, and the natural wood grain gives them character. If you are in the process of renovation and want to refresh the look of your windows, be sure to check out our overlays for old sills. These self-installable overlays allow you to transform any sill quickly and easily!
Wooden countertops – functionality and durability provided by wood
Looking for an original yet durable countertop for your kitchen? Hardwood countertops are not only elegant but also exceptionally functional. They are an ideal solution not only in the kitchen but also in the bathroom or office. Made from high-quality wood, wooden countertops are resistant to damage and very durable. The natural and sturdy material, such as oak, beech, or ash, has high resistance to mechanical and thermal damage. Such a countertop will serve you for years and will add warmth, naturalness, and coziness to your interior.
Are you looking for other interior furnishing elements, such as wooden furniture or stairs? Check out the products in our offer!