Stairs
Traditional stairs on concrete
Traditional stairs on concrete
Top-quality, carefully selected materials, precise and solid craftsmanship, along with a timeless, stylish design – our custom-made wooden stairs for self-installation have everything you need
Traditional stairs on concrete are an ideal solution for any interior. Thanks to the variety of wood used, as well as the configuration of steps and the installation of treads of different materials, this type of staircase will work well in both traditional and modern styles.
Traditional wooden stairs on concrete – stairs for your interior
Are you in search of durable and aesthetically pleasing wooden stairs to complement the interior design of your home? Wooden stairs are a beautiful and timeless choice that adds warmth and elegance to your living space. Our selection offers a wide range of wooden stairs suitable for your home, including oak, beech, and ash stairs on concrete, ensuring durability and a unique appearance. What sets our traditional wooden stairs on concrete apart?
Your new traditional stairs – various types of solid wood

Oak stairs are an excellent choice for those seeking exceptional durability and natural charm. Oak wood is not only robust but also exudes elegance, enhancing any interior space. Our oak stairs are meticulously crafted, paying attention to every detail and finish to ensure both durability and aesthetics. If you prefer something more classic, beech stairs are an excellent option. Beech wood boasts a smooth and uniform structure, adding elegance and harmony to your interior. Our beech stairs are sturdy, durable, and visually appealing. For a more subtle and delicate aesthetic, ash stairs are the perfect solution. Ash wood features distinctive, wavy grain patterns that add uniqueness and natural beauty. Our ash stairs are carefully crafted, ensuring durability and aesthetics that will satisfy even the most discerning customers.
Traditional wooden stairs – long-lasting durability
Our selection also includes cantilever stringerless floating staircases with closed risers, adding extra comfort and luxury to your interior. Self-supporting stairs are perfect for those seeking a minimalist and modern look. Every staircase we offer is meticulously crafted, prioritizing quality and durability. To tailor the stairs to your interior, we provide various staircase finishes and trim options. You can choose from various wood species and colors to create stairs that harmonize with the rest of your interior. We invite you to explore our selection of traditional stairs on concrete – wooden stairs for your home. Take advantage of our configurator and share your preferences with us!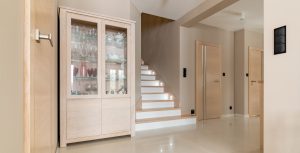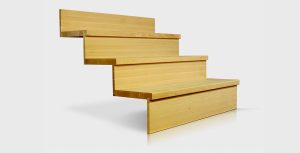 Configurator
Our priority is to make the perfect staircase, 100% tailored to your needs and requirements. For this purpose, we have prepared a clear configurator, thanks to which we are able to know your expectations in a few moments, so that we can prepare an offer for you. You are very much welcome to read in detail all points of the configurator and additional descriptions.
The configurator serves only to prepare detailed calculation.
Remember – a reliably completed configurator will allow you to avoid misunderstandings at the stage of implementation of your order.