Countertops
Invest in quality and stylish finishing
Top-quality, carefully selected materials, precise and solid craftsmanshi, along with a timeless, stylish design – our custom-made wooden stairs for self-assembly have everything you need.
Today, the kitchen is not just a place for preparing meals, but above all, the heart of the home where family life revolves. Modern, functional kitchen furniture with a timeless wooden countertop is becoming increasingly popular, adding warmth to the entire room.
Wooden Countertops – a natural and elegant solution for every kitchen
Are you at the finishing stage of decorating your kitchen? Wooden countertops are an incredibly popular and unique solution in kitchen design. Made of oak wood, they provide a natural and elegant look, adding warmth and character to any interior. Oak wood countertops are particularly esteemed for their durability, aesthetics, and unique properties of solid wood. Over the years, they have gained a reputation as reliable kitchen furniture elements that add charm and become the heart of every kitchen.
Oak Countertops – a blend of strength and style
Oak wood countertops are made from carefully selected oak wood, ensuring their exceptional quality and durability. Oak wood is known for its strength and resistance to mechanical damage. This means that oak countertops are resistant to scratches, impacts, and wear, making them an ideal choice for intensively used kitchen spaces. Oak countertops captivate with their natural beauty and elegance. The wood's grain patterns create beautiful designs that add a unique character to every kitchen. The oak wood's shade, ranging from browns to golden tones, blends perfectly with various kitchen styles, adding coziness and warmth.
Solid wood countertops – the perfect solution for kitchen furniture
The wood used to make countertops in our joinery workshop has many advantages. It is a natural and durable material that provides unparalleled aesthetics and durability. Solid wood is also stable and resistant to temperature and humidity changes, making it an ideal material for kitchen countertops exposed to diverse usage conditions. Wooden countertops are an excellent solution for both new and renovated kitchen furniture. Their natural appearance and aesthetics fit various kitchen styles, from traditional to modern. Furthermore, these products can be customized to individual needs, allowing for a perfect fit to the dimensions and specifications of each kitchen. Wooden countertops, especially oak wood countertops, are an ideal choice for those seeking a natural, durable, and elegant solution for their kitchen. Made from solid oak wood, they guarantee not only an aesthetic look but also resistance to mechanical damage and durability. Take advantage of our configurator!
Check out our traditional window sills as well!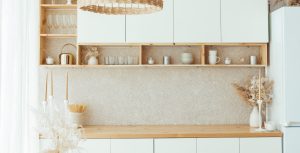 Configurator
Our priority is to create perfect stairs, 100% tailored to your needs and requirements. For this purpose, we have prepared a user-friendly configurator that allows us to understand your expectations in a matter of moments, enabling us to prepare an offer for you. We kindly request that you carefully go through all the points in the configurator, along with the additional descriptions.
The configurator serves solely for preparing pricing.
Remember – a thoroughly completed configurator will help avoid misunderstandings during the implementation of your order.